SDS6000L Low Profile Digital Storage Oscilloscope
Main Features
500 MHz, 1 GHz, 2 GHz models

8/4 analog channels + 1 external trigger

5 GSa/s (10 GSa/s ESR) per channel
Record Length up to 500 Mpts
Waveform capture rate up to 750,000 wfm/s (Sequence mode)
SYNC-64 to Synchronize 64 x SDS6000L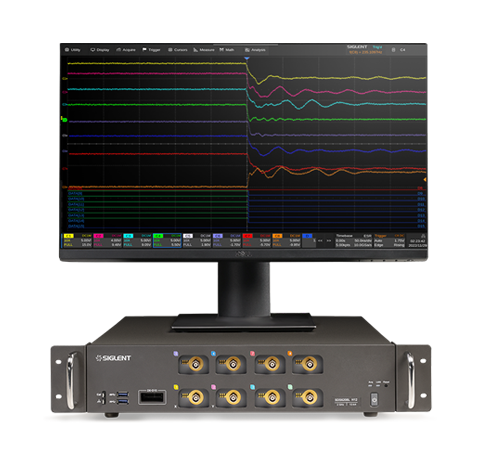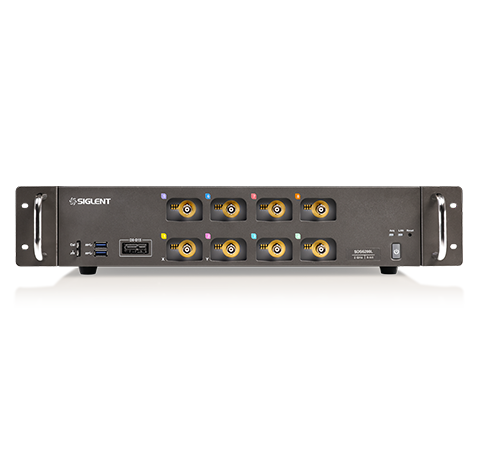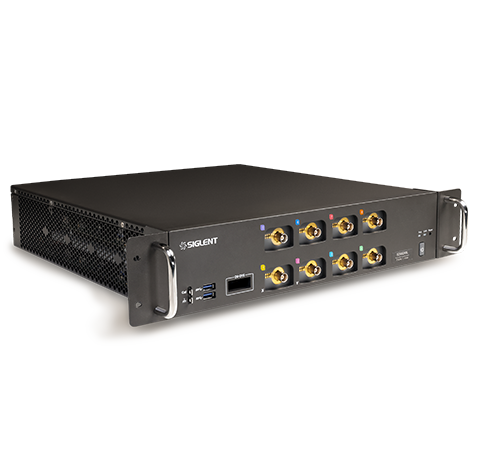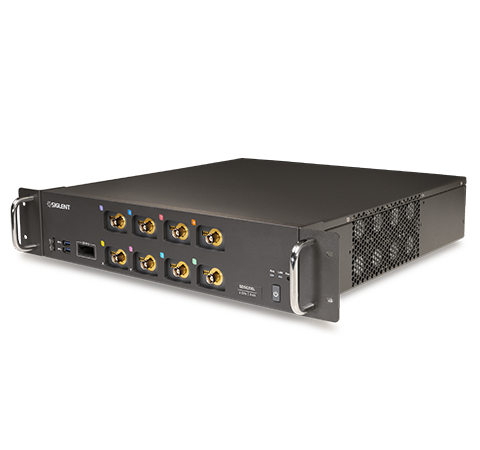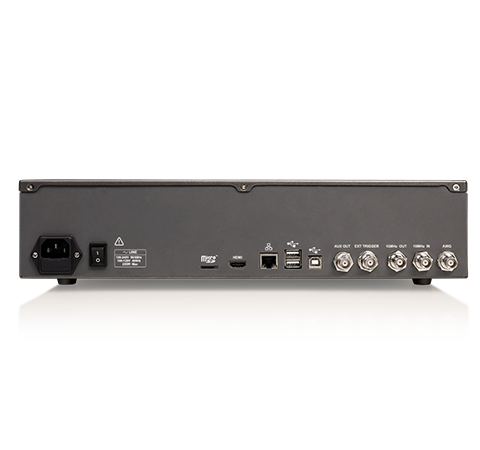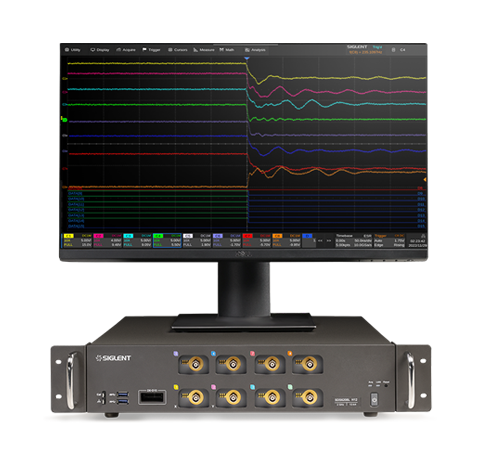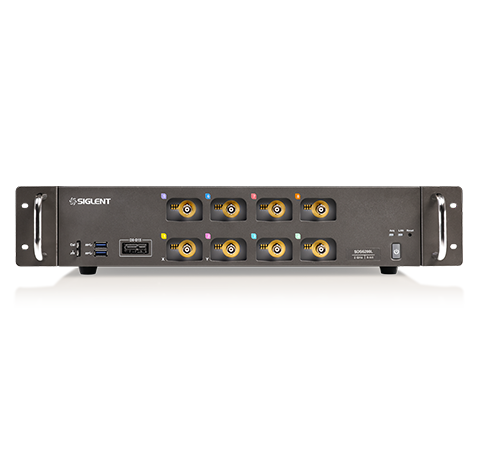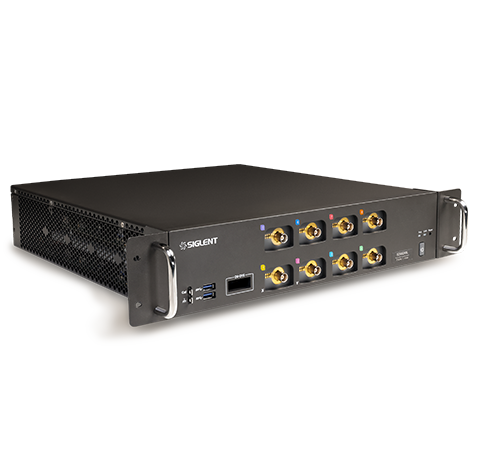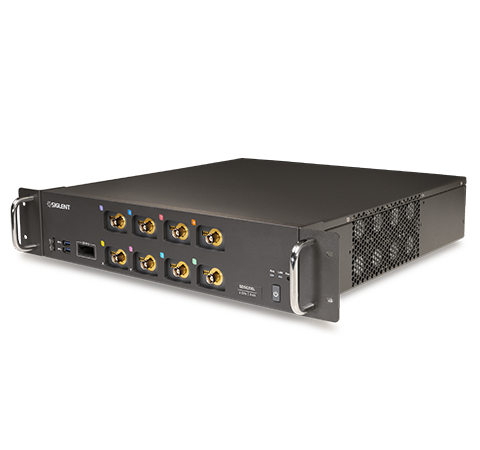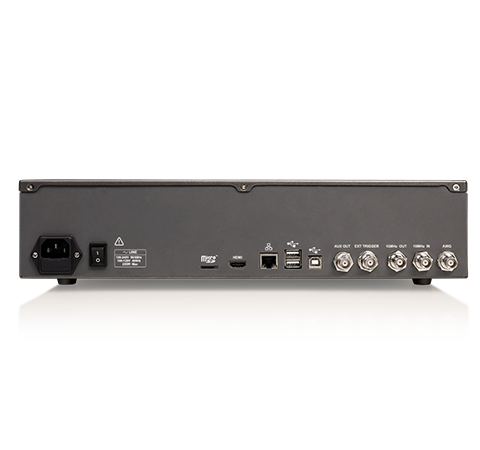 Flexible Multi-channel High-speed Acquisition System
· Standard sizes: 4 - channel models – 1U,8-channel models – 2U
· Multiple units are combined to create a high-speed acquisition system with up to 512 channels by being triggered with low-skew synchronization signals from the 64-channel synchronization distributor SYN64
· The host can access each unit over 1000M LAN. A complete SCPI command set as well as LabVIEW and IVI drivers are provided for easy data acquisition. The LAN port is LXI compliant
· Sample clocks are synchronized between all units in the test system by cascading the 10 MHz In and 10 MHz Out clocks in a daisy chain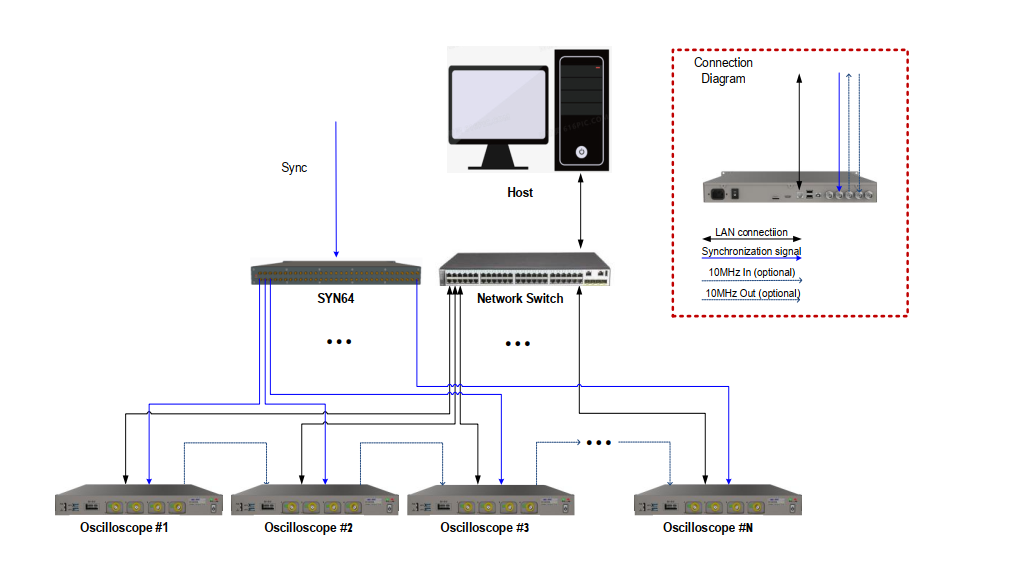 Eye diagram and jitter analysis
The SDS6000L Series can automatically extract the embedded reference clock from serial data and create an eye diagram. Measurement on multiple eye / jitter parameters is provided and mask testing of eye diagrams is supported.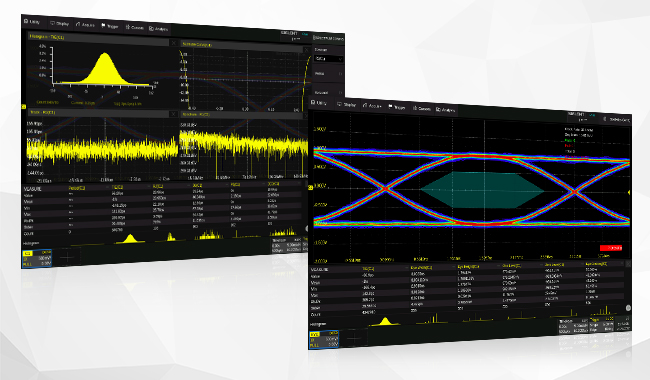 High Waveform Update Rate
The waveform update rate of SDS6000L is up to 170,000 wfm/s, which can easily capture unusual or low-probability events. In Sequence mode, the waveform capture rate can reach 750,000 wfm/s.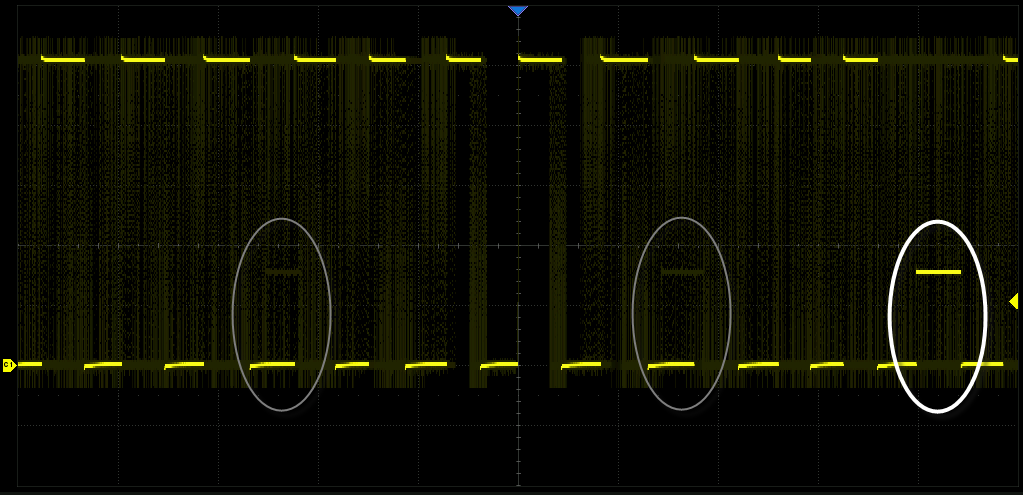 Complete Connectivity
Interfaces include: HDMI (1280 x 800) x1, USB Host 3.0 x2, USB Host 2.0 x2, USB Device 2.0 (USBTMC) x1, 1000M LAN (VXI-11 / Telnet / Socket)x1, micro SD card x1, Auxiliary output (Pass / Fail, Trigger Out) x1, 10 MHz In x1, 10 MHz Out x1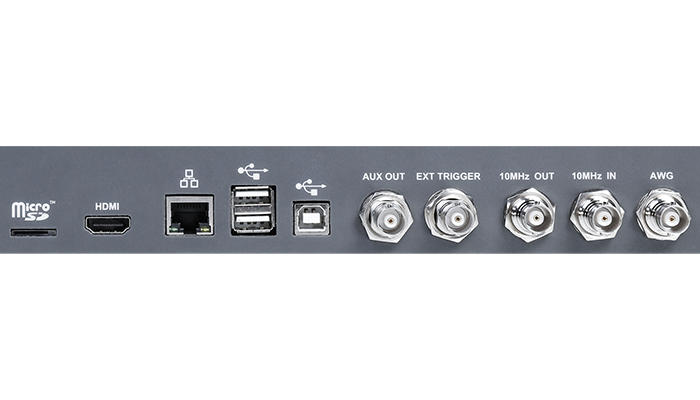 Specifications
---
Bandwidth

500 MHz, 1 GHz, 2 GHz

Sample Rate(Max.)

5 GSa/s (10 GSa/s ESR) per channel

Waveform capture rate(Max.)

750,000 wfm/s (Sequence mode);
170,000 wfm/s (Normal mode)

Analog channels

8/4 + EXT

Trigger type

Edge, Slope, Pulse width, Window, Runt, Interval, Dropout, Pattern, Video, Qualified, Nth edge, Setup/hold, Delay, Serial

Serial trigger and decode

I2C, SPI, UART, CAN, LIN, CAN FD, FlexRay, I2S, MIL-STD-1553B

Data analysis

Standard: I2C, SPI, UART, CAN, LIN
Optional: CAN FD, FlexRay, I2S, MIL-STD-1553B, SENT, Manchester (decode only)
| | |
| --- | --- |
| Digital channel (optional) | 16-channel; maximum sample rate up to 1 GSa/s; record length up to 50 Mpts |
| Waveform generator (optional) | Single-channel external USB isolated waveform generator, frequency up to 25 MHz, 125 MSa/s sample rate, 16 kpts waveform memory |
| I/O | HDMI (1280*800), USB 3.0 Host x2, USB 2.0 Host x2, USB 2.0 Device (USBTMC), 1000M LAN (SCPI over VXI-11, SCPI over Telnet (port:5024), SCPI over Socket (port:5025), micro SD card, External trigger, Auxiliary output (TRIG OUT,PASS / FAIL), 10 MHz In, 10 MHz Out |
| Probe (standard) | 1x 500 MHz passive probe supplied for each channel |
| Measurement | 50+ parameters, statistics, histogram, trend, and tracking supported |
Model
Bandwidth
Channel
Sampling Rate
Waveform Update Rate
Memory Depth
SDS6208L
2 GHz
8 + EXT
5 GSa/s (10 GSa/s ESR) @ each channel
170,000 wfm/s (normal mode), 750,000 wfm/s (sequence mode)
500 Mpts/ch
SDS6204L
2 GHz
4 + EXT
5 GSa/s (10 GSa/s ESR) @ each channel
170,000 wfm/s (normal mode), 750,000 wfm/s (sequence mode)
500 Mpts/ch
SDS6108L
1 GHz
8 + EXT
5 GSa/s (10 GSa/s ESR) @ each channel
170,000 wfm/s (normal mode), 750,000 wfm/s (sequence mode)
500 Mpts/ch
SDS6104L
1 GHz
4 + EXT
5 GSa/s (10 GSa/s ESR) @ each channel
170,000 wfm/s (normal mode), 750,000 wfm/s (sequence mode)
500 Mpts/ch
SDS6058L
500 MHz
8 + EXT
5 GSa/s (10 GSa/s ESR) @ each channel
170,000 wfm/s (normal mode), 750,000 wfm/s (sequence mode)
500 Mpts/ch
SDS6054L
500 MHz
4 + EXT
5 GSa/s (10 GSa/s ESR) @ each channel
170,000 wfm/s (normal mode), 750,000 wfm/s (sequence mode)
500 Mpts/ch