SDS1000X-U Series Super Phosphor Oscilloscopes
Main Features
100 MHz bandwidth
Real-time sampling rate up to 1 GSa/s
Record length up to 14 Mpts
Serial bus triggering and decoder supports protocols I2C, SPI, UART, CAN, LIN
Advanced measurements on full memory (14 Mpts)
Large 7-inch TFT-LCD display with 800 * 480 resolution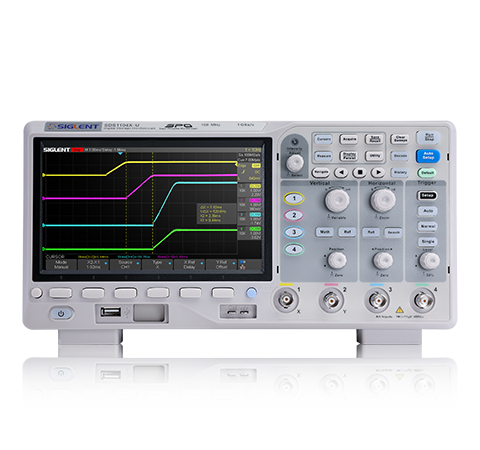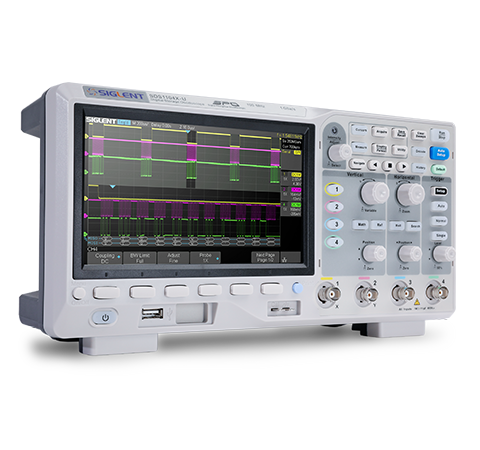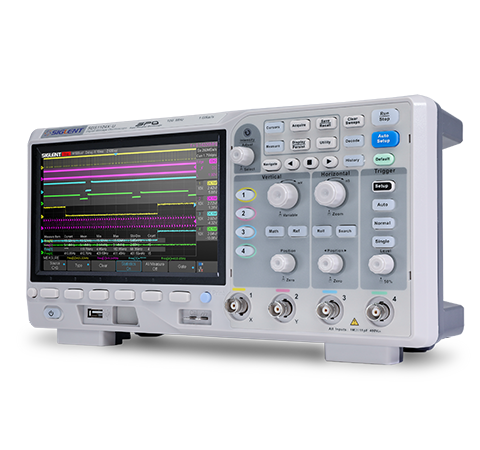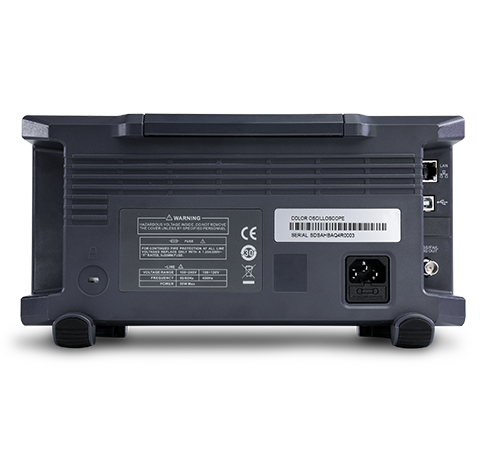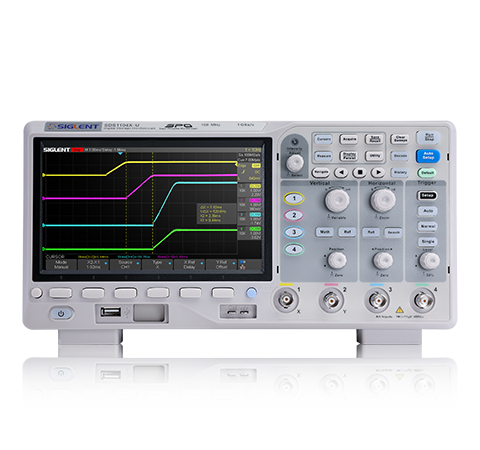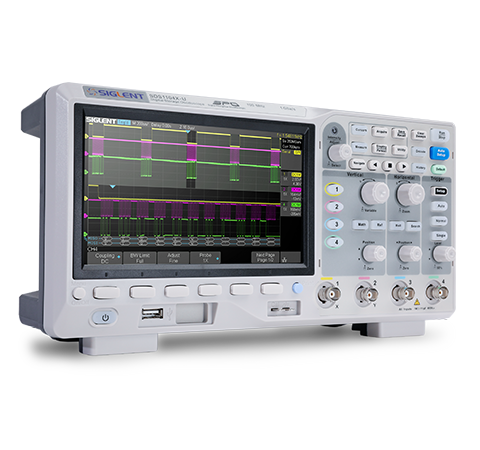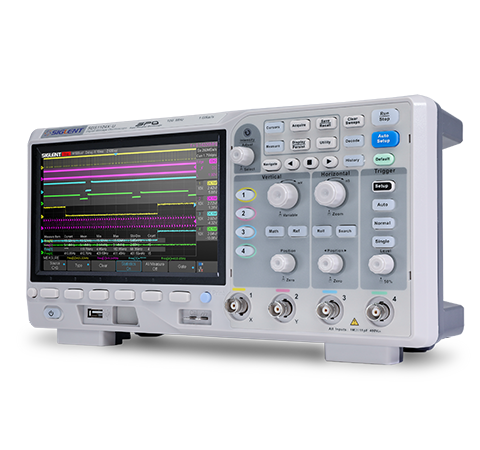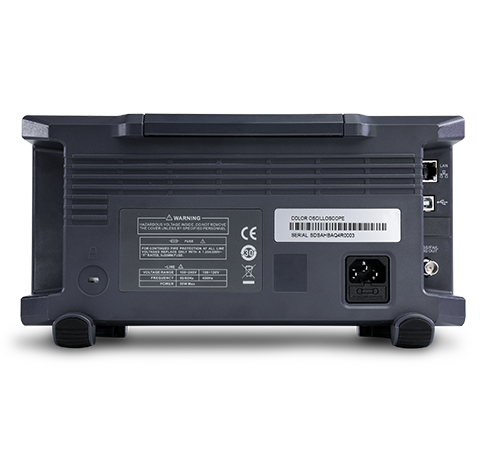 Fast familiarization through a well-organized 7 inch Display
7-inch TFT -LCD display with 800 * 480 resolution

Supports 256 level intensity grading and color temperature display modes
Quick access to functions with 10 One-Button Menus
The frequently used functions can be accessed with one button press. Zoom, Roll, Save, Intensity, Measure, History, Default, Cursors, Clear Sweeps, Auto Setup.
Rich set of standard features incl. Serial bus Trigger/Decode
Most oscilloscopes on the market do not offer serial decoding for free but SDS1104X-U does. Serial decoding is free and includes IIC, SPI, UART, CAN, and LIN.

The waveform and data can be displayed at the same time and the detailed decoding information is displayed in the form of a list, and the data can be stored and exported.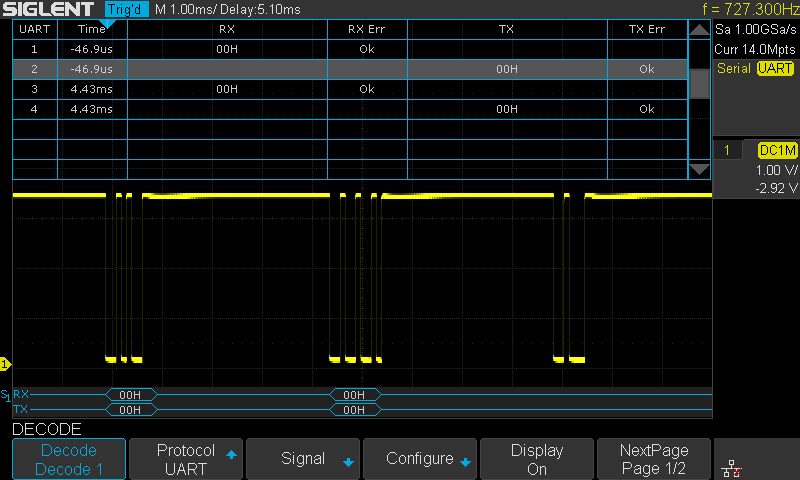 Advanced Measurements on full memory (14 Mpts)
SDS1104X-U can measure all sampled data points up to 14 Mpts. This ensures the accuracy of measurements while the math co-processor decreases measurement time and increases ease-of-use.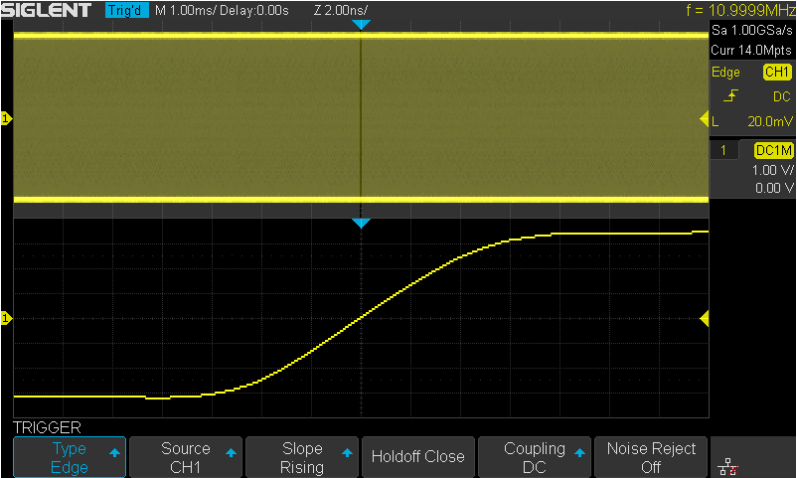 Time saving automatic settings like FFT-Markers with Peak-Search
The math co-processor enables FFT analysis of incoming signals using up to 128 k samples per waveform. This provides high frequency resolution with a fast refresh rate. The FFT function also supports a variety of window functions so that it can adapt to different spectrum measurement needs.SDS110X-U series support Peaks, Markers, a variety of numbers.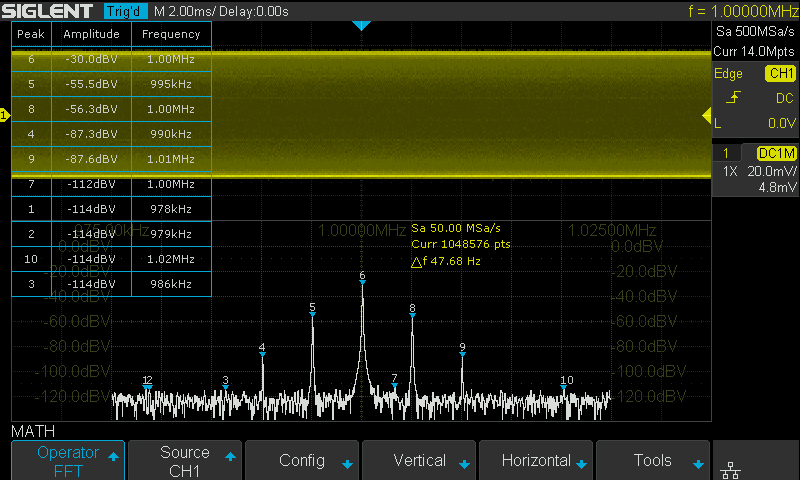 Specifications
---
| | |
| --- | --- |
| Bandwidth | 100 MHz |
| Sample Rate(Max.) | 1 GSa/s |
| Waveform capture rate(Max.) | 400,000 wfm/s (Sequence mode) |
| Channels | 4 |
| Memory Depth (Max.) | 14 Mpts/CH |
Serial trigger and decoder(Standard)

I2C, SPI, UART, CAN, LIN

FFT

128 kpts

History

80000 frames

Screen

7'' 800*480

Measurement and math

All 14M pts

measurement and Math
Model
Bandwidth
Channels
Real time sampling rate
Capture rate
Memory depth
SDS1104X-U
100 MHz
4 CH
1 GSa/s
4 00,000 wfm/s
14 Mpts