SDS2000X Plus Super Phosphor Oscilloscopes Promotions

Date: 2022-11-01

Views:
339

Now, SDS2000X Plus has multiple promotions going on. You can get SDS2000X Plus at a super low price with free decoding options, save up to $800! And our previous option bundle promotion is still going on, you can get our MSO with probe options and arbitra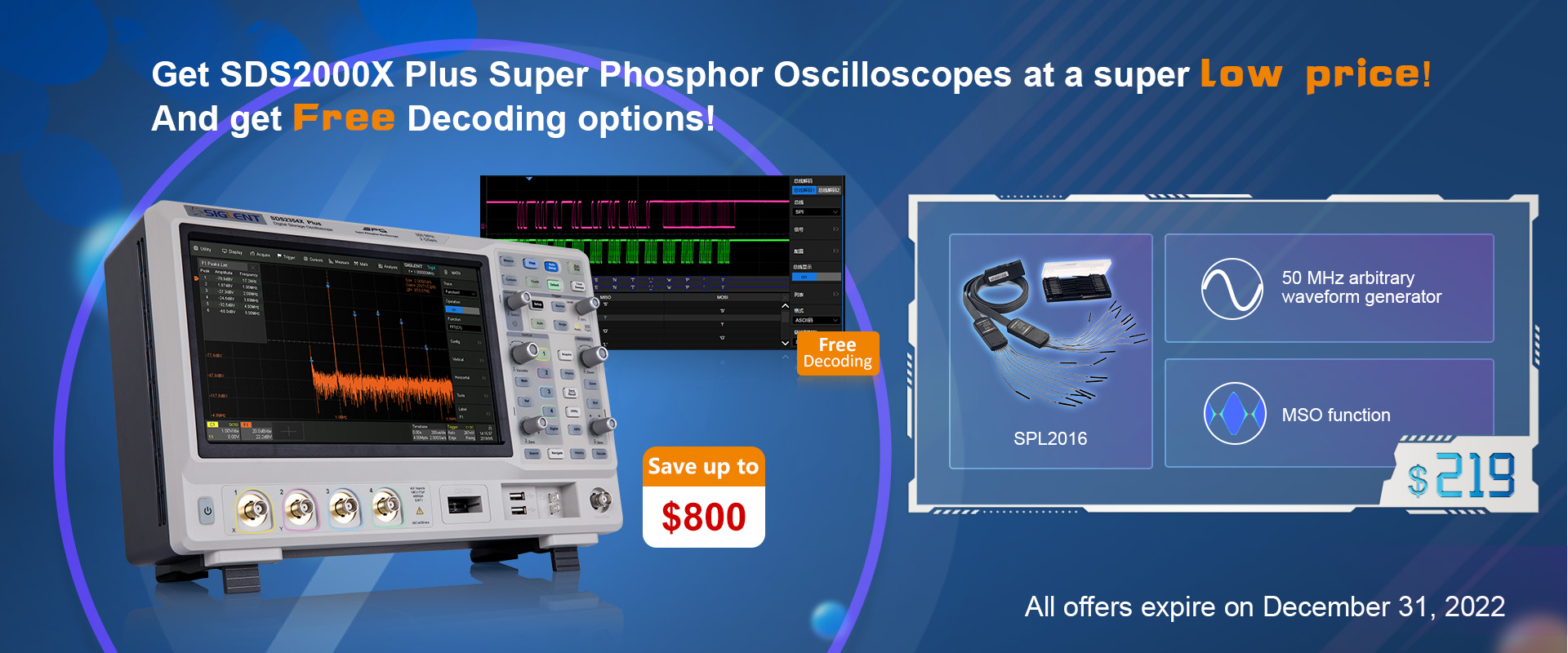 Designed to impress, the SIGLENT's SDS2000X Plus oscilloscope has a feature-rich standard configuration and a suite of options that make it a powerful and flexible tool for all general-purpose tasks in the lab.
Now, SDS2000X Plus has multiple promotions going on. You can get SDS2000X Plus at a super low price with free decoding options,
save up to $800!
And our previous option bundle promotion is still going on, you can get our MSO with probe options and arbitrary generator for
only $219
with the purchase of SDS2000X Plus!
① Price reduction Promotion
SDS2104X Plus: Price
reduced by $400
SDS2204X Plus: Price
reduced by $500
SDS2354X Plus: Price
reduced by $800
② Free decoding options Promotion
For a limited time, SDS2104X Plus, SDS2204X Plus and SDS2354X Plus purchases can receive free decoding options, save up to
$1614
. These decoding options include:
SDS2000XP-FlexRay
SDS2000XP-1553B
SDS2000XP-CANFD
SDS2000XP-I2S
SDS2000XP-SENT
SDS2000XP-Manch
③ Low price option Bundle Promotion
For a limited time, all new SDS2000X Plus purchases can get an option bundle for
only $219
. This bundle includes the SPL2016 and MSO and function generator activation licenses.
SPL2016:
Logic Probe for SDS2000X Plus series, 16-channel, 500MSa/s, 50 Mpts/ch
SDS2000XP -FG:
Built-in 50 MHz arbitrary/function waveform generator
SDS2000XP -16LA:
MSO function activation license for SDS2000X Plus oscilloscope
(All offers expire on December 31, 2022)