Save up to $1764 with a new SDS2000X Plus Oscilloscope and Option Bundle

Date: 2020-09-29

Views:
1080

We are happy to announce that we are decreasing the price of two SDS2000X Plus models (SDS2204X Plus and SDS2354X Plus models only) starting on October 1st, 2020. For a limited time, all new SDS2000X Plus purchases include a free option bundle, includin

Designed to impress, the Siglent SDS2000X Plus oscilloscope has a feature-rich standard configuration and a suite of options that make it a powerful and flexible tool for all general-purpose tasks in the lab. Turn to the product page to get more detailed information on the SDS2000X Plus:
https://int.siglent.com/products-overview/sds2000xp/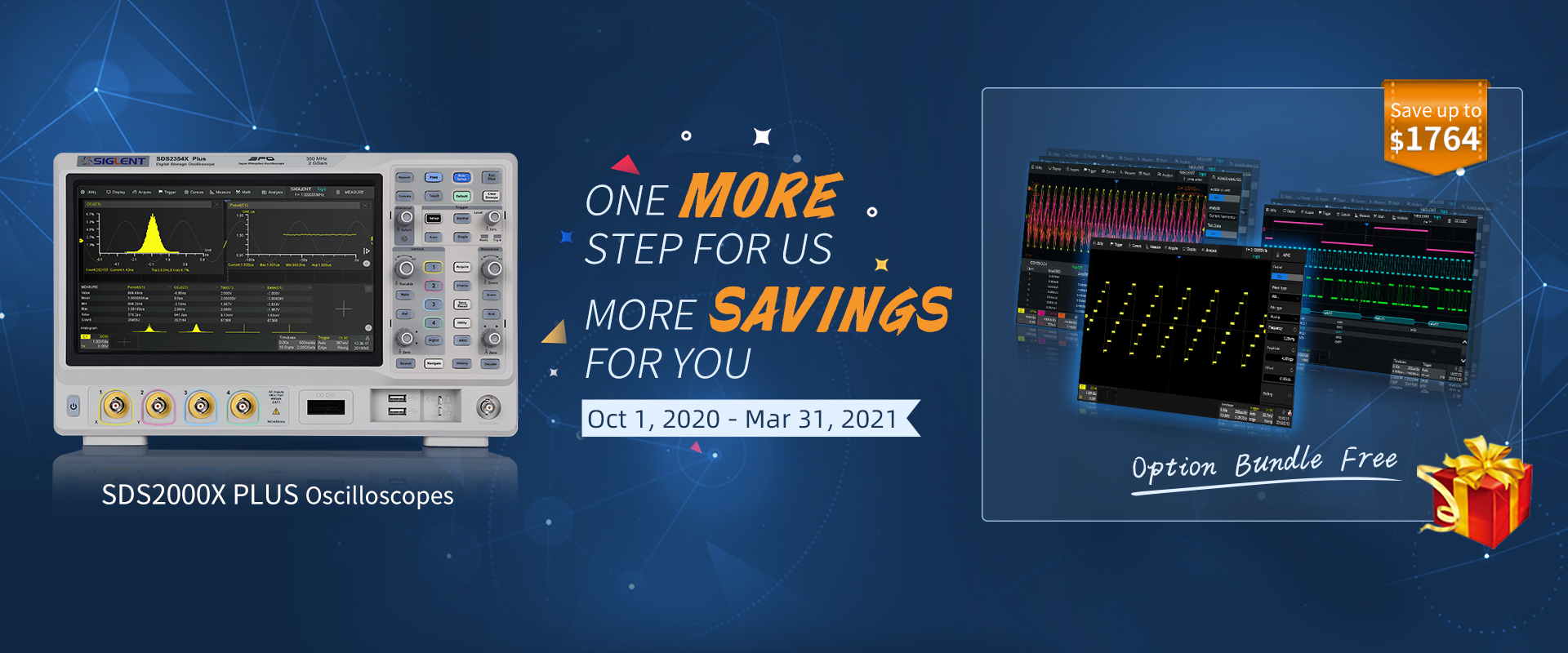 We are happy to announce that we are decreasing the price of two SDS2000X Plus models (SDS2204X Plus and SDS2354X Plus models only) starting on October 1
st
, 2020.
For a limited time, all new SDS2000X Plus purchases include a free option bundle, including 4 high performance serial decoding protocol options, function generator control, and the new power analysis functions.
Easily save up to $1764 with a new SDS2000X Plus Oscilloscope and Option Bundle now!
SDS2000XP-IIS:
Decode I2S digital audio signals
SDS2000XP -FlexRay:
Analyze Serial Flexray encoded signals
SDS2000XP -1553B:
Decode Mil-1553B serial communications
SDS2000XP -CANFD:
Analyze CANFD serial signals
SDS2000XP -PA:
Power Analysis activation license (Requires external DF2001A deskew fixture)
SDS2000XP -FG:
Built-in 50 MHz arbitrary/function waveform generator
These options enable the user to conquer challenges with Automotive, Audio, Embedded and Power Electronics applications. Combined with the wide variety of all standard features, the SDS2000X Plus becomes one of the R&D and Test Engineer's most powerful tools.
Note:
The SDS2000X Plus series oscilloscopes must be purchased from an authorized SIGLENT distributor.
The price decreasing of SDSSDS2204X Plus and SDS2354X Plus is not valid in EU area.
SIGLENT TECHNOLOGIES reserves the right to all final decisions related to this campaign.
Please feel free to contact us: sales@siglent.com.
All Offers are valid until March 31st, 2021.